Diplomacy: Fact-finding mission of the AU-PSC to the Republic of Chad
The Executive Secretary of the Lake Chad Basin Commission (LCBC) and Head of Mission of the Multinational Joint Task Force (MNJTF), Ambassador Mamman Nuhu, received on Sunday, 2 May 2021, the African Union (AU) Peace and Security Council (PSC) fact-finding mission that has been in Chad since Thursday, 29 May 2021.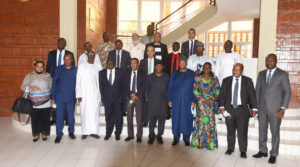 The AU Commissioner for Political Affairs, Peace and Security, HE Ambassador Bankole Adeoye, and the PSC Chairperson for April 2021, HE Ambassador Idriss Farah of the Republic of Djibouti, led the delegation. The delegation also includes five (5) members of the AU-PSC (one from each geographical region) and the Democratic Republic of Congo in its capacity as Chairperson of the AU. The Mission is in N'Djamena as part of the search for ways and means to facilitate a rapid return to constitutional order and democratic governance, following the sudden disappearance of Field Marshal Idriss Deby Itno and the assumption of power by a Military Transition Council.
The Mission, which is in Chad until 6 May, seeks first-hand information from the Chadian Authorities and stakeholders on the unfolding political and security situation. It will also examine strategies to facilitate a swift return to constitutional order and democratic governance while preserving Chad's security and territorial integrity. Furthermore, the Fact-Finding Mission will reaffirm the solidarity of the AU with the Government and people of Chad and the unwavering commitment to supporting its transition process.
The meeting with the Executive Secretariat was part of the consultations with regional and international stakeholders on the ground on critical issues related to the lasting peace and stability of Chad. They include the fight against terrorism and violent extremism, armed rebellion, and transnational organised crime, and above all on the potential impact of the current events in Chad, on the Sahel and Lake Chad Basin regions.
The Executive Secretary and his closest collaboration amply briefed the delegation on all these security issues and the latest developments in the Regional Strategy for the Stabilisation, Resilience and Recovery of the Areas of the Lake Chad Basin affected by terrorism.
The Mission will submit its findings to the AU Peace and Security Council for due consideration and decision on the situation in Chad.