As part of the Lake Chad Basin Commission (LCBC) Climate Change Adaptation Project, funded by the GIZ (German International Technical Cooperation), 215 farmers from the areas of Dourbali, Linia, Saleh Manga, Karanik, Mandelia, Loumia, Guelendeng, Moulkou and Gounanda, in the Chari-Baguirmi and Mayo Kebbi East provinces, received a donation of agricultural equipment and materials.
These equipment and materials comprised ploughs, hoes, dabas, machetes, carts, sickles, shovels, pickaxes, wheelbarrows, sprayers, seed drills, buckets, rakes, seeds, blank and slotted casings, sun lamps, taps, etc.
It started with an initiative to drill 15 volunteer farmers who acted as a bait for other farmers. Thus far, the current number of project beneficiaries who have been empowered has increased to 120 farmers. This donation is part of the project dubbed "Organizational Advisory Services to the Lake Chad Basin Commission". The Project aims at assisting LCBC member countries meet climate change challenges.
Mr. Gossou Cheik Boubou, Coordinator of the beneficiary groups, expressed his satisfaction and thanked the Project upon receiving all the equipment and materials. He also urged the groups to continue this process while asking LCBC to continue supporting them through capacity building, advisory services. This support will help the beneficiary groups adapt to the effects of climate change and fight against conflicts between farmers and herders because beneficiaries of the project are both farmers and herders.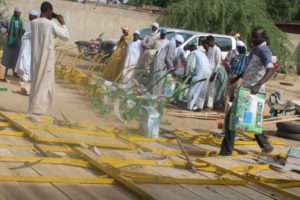 According to GIZ officials, this support will continue or even be extended to other areas in the Lake Chad Basin in order to address the major challenges of climate change, which is increasing food insecurity, social tensions and poverty among the populations concerned.