On 16 August 2019, the People's Republic of China, through its diplomatic office in Chad, officially handed over US$100,000 in grants to the Lake Chad Basin Commission (LCBC). The official ceremony took place at the headquarters of LCBC. It should be recalled that LCBC is a sub-regional organization responsible for the harmonious management of environmental resources of the Lake Chad Basin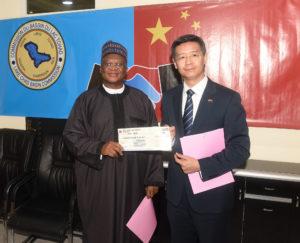 The Ambassador of the People's Republic of China to Chad, Mr. LI JINJIN, symbolically handed a copy of the cheque to the Executive Secretary of LCBC. He stated that this gesture is intended to mark his country's support for the governance of African countries in combating the challenges of climate change and to promote relations with LCBC and its member states.
Today's grant is just one out of many commitments by the Chinese government to LCBC. In the past, China had already provided substantial support to LCBC and the Multinational Joint Task Force (MNJTF) with the view to supporting efforts to restore peace, security and sustainable development in the Lake Chad Basin. More recently, in a bid to finding a sustainable solution to the shrinking waters of Lake Chad, which is one of the priorities of the Heads of State and Government of LCBC member countries, the Chinese government graciously provided $1.5 million to Power China to complete the feasibility study for the Inter-Basin Water Transfer Project (IBWTP) from the Congo River to the Lake Chad. In addition, the People's Republic of China, through the African Union (AU), has also made provided equipment to MNJTF as part of the fight against terrorism in the Lake Chad Basin region.