MNJTF: Outgoing Force Commander Decorated
The outgoing Force Commander of the Multinational Joint Task Force (MNJTF), Maj-Gen. Jide Jeleel OGUNLADE, was on 6 August 2021, decorated by the Executive Secretary of the LCBC and Head of Mission of MNJTF, Amb. Mamman NUHU, with the MNJTF service medal. The symbolic ceremony was held at the Headquarters of LCBC in N'Djamena, Chad. In attendance were the Force Commander MNJTF, Maj-Gen Abdul Khalifa IBRAHIM, military staff officers of MNJTF and senior executives of LCBC.
Major General J.J. OGUNLADE, who ended his tour of duty as the Force Commander of the MNJTF on the same day was awarded the medal of distinction of the Force for his contribution in the fight against terrorism in the Lake Chad Basin. The award was given in recognition of the work done " a token of the appreciation of MNJTF, LCBC and member states for your bravery, rigour, composure and professionalism," Ambassador MAMMAN NUHU said as he pinned the medal on the outgoing Force Commander.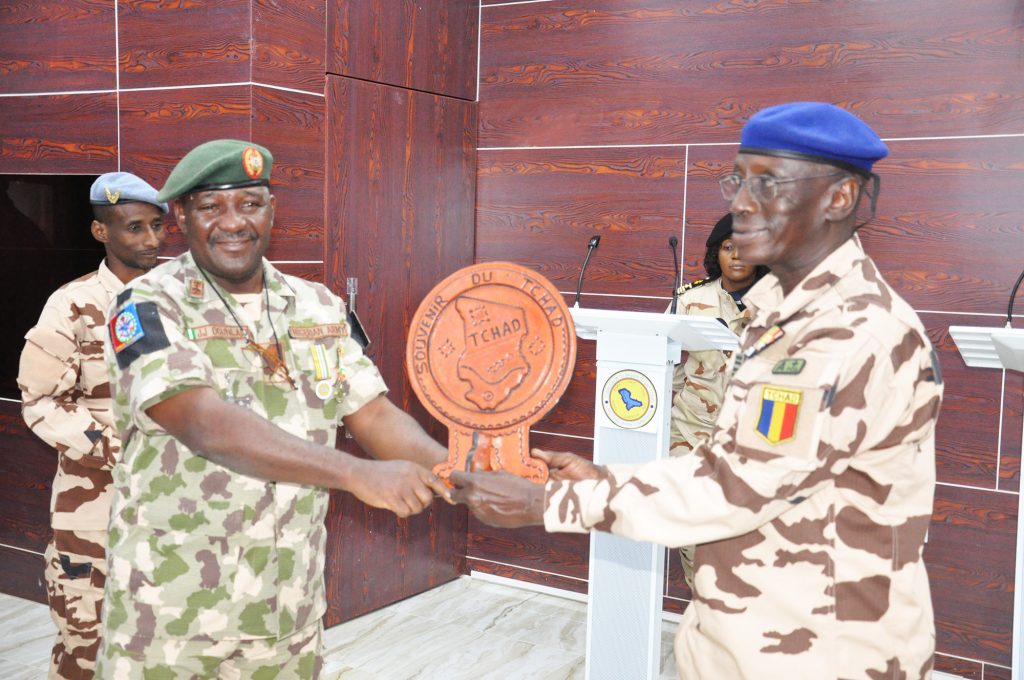 This ceremony was also an opportunity to present other symbolic gifts to other military staff officers who had also completed their tour of duty at the mission. As a reminder, MNJTF has about 10,000 men, comprised of contingents of national armed forces of the various member countries, is charged with the responsibility of eradicating terrorism and any other forms of transnational crime within the Basin.
Maj-Gen OGUNLADE was delighted and thanked the Head of Mission, senior executives and partners of the MNJTF and LCBC, whose assistance was invaluable in the success of his mission. He stated that "I have learned a lot from our father, who is the Head of Mission, and I can assure you that I will strive to implement the lessons learned in my new position." General OGUNLADE called on military staff officers of MNJTF to maintain the spirit of unity and sacrifice, which is crucial to eradicating terrorism out of the Lake Chad Basin.
Gen. OGUNLADE handed over the command of the Force to Maj-Gen Abdul Khalifa IBRAHIM, the New Force Commander of the MNJTF. Prior his appointment he was the General Officer Commanding 7th Division, Nigeria Army as well as Commander Sector 1, Operation "Hadin Kai" in North East Nigeria.