LCBC OFFICIALLY LAUNCHES THE DEVELOPMENT OF THE REGIONAL KNOWLEDGE MANAGEMENT PLATFORM (KMP)
The Lake Chad Basin Commission (LCBC) through the Project for the Recovery and Development of the Lake Chad Region (PROLAC) proceeded this Thursday, April 21, 2022, in its premises to the official launched of the start-up work of the design, development and operationalization activities of the regional Knowledge Management Platform (KMP). This launching was done in the presence of the Director of Finance Administration, the Technical Director represented by the Head of Division of the Basin Observatory and Coordinator of PROLAC/CBLT, the Heads of Division of the CBLT, the Coordinators of Projects and Programs and all the experts of the CBLT. Also present were three (3) representatives of the AHT Group.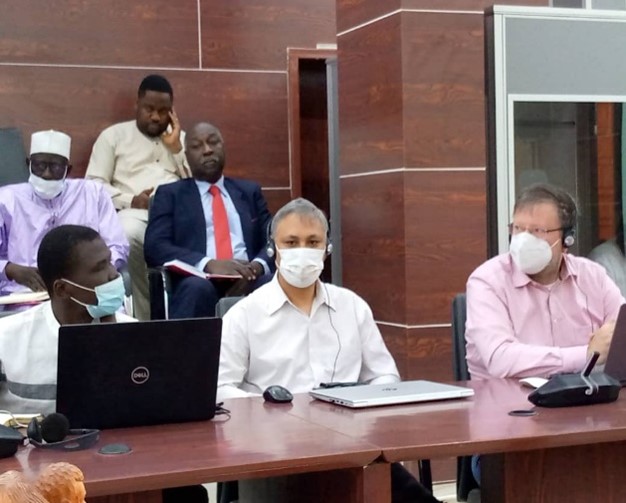 La plateforme régionale de gestion de connaissances vise à élargir le LIS (Lake Information System) qui constitue déjà une source de données sur la gestion des ressources en eau en vue de lui permettre d'intégrer les données collectées dans les autres secteurs clés à savoir : le développement socio-économique, le changement climatique, la bonne gouvernance, la cohésion sociale, les droits de l'homme, etc. Elle facilitera aussi l'informatisation des données, la compilation d'ensembles complets de données spatiales et temporelles provenant de sources mondiales, régionales et locales, y compris en temps réel.
La plateforme permettra donc de consolider l'ensemble des connaissances des parties prenantes de la région du Lac Tchad afin de constituer une source de données fiables pouvant servir d'outils d'aide à la décision aux acteurs politiques, aux partenaires techniques et financiers, aux projets et programmes de développement, aux universités, aux étudiants, bref à tous les utilisateurs.