MNJTF: Presentation of medals to the Benin Contingent
On Wednesday, 14 October 2020, the Executive Secretary of the Lake Chad Basin Commission (LCBC) and Head of Mission of the Multinational Joint Task Force (MNJTF), Amb. Mamman NUHU, presided over the medal award ceremony for officers of the Third Motorised Infantry Battalion of the Benin Contingent to the MNJTF. The event which marks the end of the twelve-month tour of duty of the Contingent to the MNJTF, was held at the Military Camp in Farcha.
The Head of Mission was assisted in the award by the Force Commander, Major General Ibrahim Manu YUSUF, representatives of the African Union Commission, the Minister of Defence of the Republic of Chad as well as Defence Attachés of Cameroon, Niger, Nigeria, France and the United States of America.
In his address, Amb. Mamman Nuhu acknowledged the role played by each of the 150 men and women: "You can be proud of what you have achieved so far, as I am. It is the fruit of your unwavering commitment to the MNJTF and its missions, your professionalism, rigour and resilience".
The outgoing Benin Contingent arrived in N'Djamena, in October 2019. Their mission was to secure the Headquarters of LCBC, the MNJTF and some of their associated facilities. Other support provided to the MNJTF and the African Union support team, included the maintenance and repairs of vehicles, transportation of logistic equipment in the field and movement of various delegations during events organised by LCBC and MNJTF. Notwithstanding the constraints caused by the COVID-19 pandemic, prohibition of regroupings, curfews, border closures, etc. the contingents discharged their duties effectively.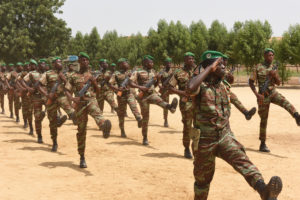 The medal award ceremony by the MNJTF is a reward for honourable service, exceptional commitment, and intervention in humanitarian action, accomplishment of a one-off or continuous actions beyond the normal scope of service, rendered by any person, man or woman as part of efforts towards stabilising and securing the Lake Chad Basin.