International Women's Day: Experience sharing of women farmers in Waza – Logone
March 8 was declared International Women's Day by the United Nations (UN) in 1977, with the aim of celebrating the progress for women's rights. Each year, a specific theme is chosen by the UN and is subject to many discussions and activities. This year's celebration takes place against the backdrop of the coronavirus pandemic which has hit the world. The theme of the 2021 edition is "Women in leadership: Achieving an equal future in a COVID-19 world".
Notwithstanding the multiple challenges, LCBC, in keeping with its tradition, lived up to the billing: initiatives were undertaken to place women at the heart of creation and their full and complete participation in the social, political, and economic life of the Basin.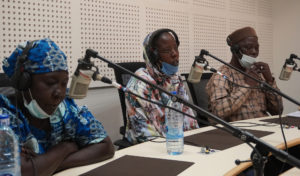 Thus, among these initiatives, beneficiaries of the project "Applied Water Resources Management in the Lake Chad Basin", funded by German cooperation through the GIZ, were invited to share their experiences on the national radio station of Chad.
The programme, which will be broadcast on 8 March, will highlight the role of these women farmers, who originate from Aba Liman, Bongor and Mailao (i.e., Waza-Logone, which borders Cameroon and Chad and is the intervention area of this climate change adaptation project) in a context not only of climate change but also of acute health crisis.