2021 Celebration of the World Water Day
The World Water Day, held on 22 March every year since 1993, was adopted in 1992 by the United Nations General Assembly. The day is an ideal opportunity to sound the alarm about the numerous pressures on this common heritage and fundamental human right, but also to raise awareness on the need to preserve it. A blue resource which, like Lake Chad, is becoming drastically scarcer under the combined effects of climate change and human pressures of all kinds.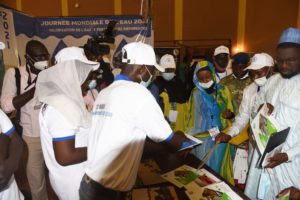 The 2021 edition focused on the theme "Valuing Water". The theme aims to magnify the value of water, source of life and all activity on Earth. Water is used in our homes, for our food, culture, health, education, economy, or environment, and as such, man depends exclusively on it. Thus, the urgent need to protect water from all forms of pollution and overexploitation. In addition to the climatic, environmental, security, health and social crisis experienced in the Lake Chad Basin in recent years, multiple and irrational uses of water resources may lead to a disaster. It is therefore necessary to draw the attention of all users, in the various contexts, to the importance of better protecting this fragile resource, for the benefit of all.
In keeping with its mission to promote better management of water resources and other environmental resources of the Lake Chad Basin, LCBC could not remain on the side-lines of such an event. It was held in N'Djamena, at the Palais du 15 janvier, under the tutelage of the Ministry of Urban and Rural Hydraulics of Chad. LCBC participated through its programmes and projects, particularly the BGR Project (Federal Institute for Geosciences and Natural Resources, a German research organisation, which is implementing a project on Sustainable Water Resources Management in the Lake Chad Basin). LCBC animated a stand and participated in all the events (presentations, broadcast of documentaries, exhibitions). The national theme in Chad was "The role of water in rural areas: how to protect it?".
Even though access to drinking water and sanitation is documented as a human right, most people in the Basin still do not have access to quality drinking water supply services. According to the Minister of Urban and Rural Hydraulics of Chad, Mrs Tahani Mahamat Hassan, during here opening remarks of celebrations, "efforts are made to significantly increase the rate of access to drinking water". Unfortunately, the provision of drinking water to the populations of the Basin is still a challenge. Member countries lack water infrastructures and sanitation services worthy of the name. In the Lake Chad Basin more than anywhere else, thousands and thousands of people die annually from water-related diseases, making unsafe water one of the leading causes of death.
Although a source of life, development, economy and education, water is regrettably still too often a source of poverty, disease, and death. In the Basin, more than anywhere else, drinking water, sanitation and better hygiene are still challenges. The health risks linked to water-borne diseases resulting from certain behaviours such as open defecation or lack of hygiene contribute greatly to the spread of certain viruses or bacteria responsible for diseases such as polio, dysentery, diarrhoea, or cholera.
Preserving water resources is therefore everyone's business and requires concrete collective commitment from all stakeholders and governments. The Lake Chad Basin Water Charter, which is a roadmap for the rational and mutually supportive use of water resources in the Lake Chad Basin was prepared. It requires, above all, integrated, cross-cutting, multi-actor, and multi-sectoral management. LCBC is fully committed to strengthen political dialogue on water issues and promote the sustainable and equitable management of a priceless resource, through the community of interests that bind its member states on improving the living conditions of the people and above all the promotion of good governance, water diplomacy, cooperation, solidarity, and integration.
Indeed, the value of water goes far beyond its price. It is a commodity of countless and complex value for all aspects of our lives. To neglect even one of these aspects is to run the risk of mismanaging this limited and irreplaceable resource. Hence its crucial role in achieving the United Nations' Sustainable Development Goals and the objectives of the Paris Agreement on climate change. There is every reason to believe that as the planet is getting warmer, water will become less and less abundant in the coming decades. It is therefore important to protect this natural element, to limit sources of pollution and to fight against its waste.