Military Cooperation: National Defence College (NDC) – Nigeria visits LCBC
A delegation of trainee officers from NDC – Nigeria visited the Lake Chad Basin Commission (LCBC) on 9 March 2021. This visit is part of a study tour in Chad with emphasis on climate change and the contribution of information and communication technologies (ICTs) in combating its impacts.
The delegation was led by Rear Admiral O.K. Oluwagbire. The delegation was received by the Head of Division, ICTs of LCBC, representing the Executive Secretary and Head of Mission of the Multinational Joint Task Force (MNJTF). In attendance were the military advisers to the Executive Secretary.
Several presentations were made during the visit. They focused on the one hand, on this regional institution of repute, responsible not only for the harmonious management of environmental resources of the Basin but also for peace, security, and regional integration. On the other hand, presentations also pertained to the Regional Strategy for the Stabilisation, Recovery and Resilience of the Lake Chad Basin Areas Affected by the Boko Haram Crisis and the MNJTF. As a reminder, the MNJTF was reactivated in 2015 by the Heads of State and Government of LCBC precisely to curb terrorism and bring peace, security, and stability to the region.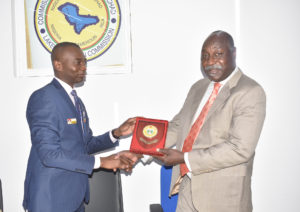 This is the second visit of a delegation from the NDC – Nigeria to LCBC. NDC trains the cream of the Nigerian military elite and officers from friendly countries. This visit shows proof, if it were needed, of the growing interest that NDC attaches to issues and challenges of the Sahel region. The programme also includes courtesy and exchange sessions with the Chadian military authorities, the secretariat of CEN-SAD, G5 Sahel, MNJTF and the National Agency of the Great Green Wall.
The institution was established in 1992 as the highest military training institution for senior officers of the Nigerian Armed Force and considered as a centre of Excellence for peace support operations training in a strategic level for West African Regions.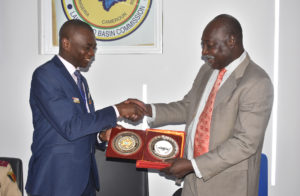 Apart from the long strong tri-service military training heritage of the Nigerian Armed Forces with the foundation of Armed Forces Command and Staff College, Jaji and Nigerian Defence Academy as a middle level staff training college, this was the appropriate effective cost to traditionally established a tri-service basis for a new strategic level military institution. It opened at a temporary site in Lagos before moving to its final location in Abuja, the Federal Capital, in August 1995.